Gothenburg Sound Festival 2013
This post has been updated with pictures, courtesy of FramedNoise.com, on January 8, 2013.
When this festival was unveiled, stating that Ceremonial Oath would be playing, the rumors immediately started flying. I was hoping that I would get to see bands like Grotesque, Liers in Wait, At the Gates (again) and the likes. As it turned out, the bands that were signed up made the festival more of a "Sounds of Gothenburg" rather than something displaying "The Gothenburg Sound." I was late buying my ticket, but there was no rush. Someone said that only 500 people would come, to a venue that takes the double. For shame! But I had a great time anyway, and here's my view on the bands playing on these two nights.
I don't have much photos to show you at this time, but check back. I might fix some.
Friday, January 4, 2013
Deals Death
Presented by Mikael Stanne (Dark Tranquillity, ex-In Flames, ex-HammerFall) these youngsters had the dubious honor of opening this festival. Of course, the audience was yet to arrive, but I was there and I took my place, center stage. DD plays a modern style of melodic death metal and do it well. It was all good up until the singer took off his shirt. I think he does this on every show. It needs to stop. Still, a good effort by the band and the game was on!
DeathDestruction (presented by Tomas "Tompa" Lindberg, At the Gates, Grotesque, Nightrage, Lock Up and many more)
The second DD is one of Evergrey, HammerFall and (now) Tony Jelencovich fame. They were the one band on this first night that I didn't take a front row spot for. I just don't like the music. There's no melodies at all, just a buzzy rhythm going on all the time. The band didn't seem to care about this and tried to entertain the best they could, and I could see a few bobbing heads in front of me.
Snowy Shaw (presented by Fredrik Nordström a.k.a. Ritchie Rainbow, Studio Fredman/Dream Evil)
I didn't know at all what to expect from this guy. I know he has had a show with him playing many classic songs, on different instruments, from all the bands he's been in, and it turned out that we got a condensed version of that show around 20 o'clock on this Friday. The guy knows how to entertain, even though the show mostly consisted of him tripping over wires and free-standing drums. The songs that yielded the most excitement was the Dream Evil ones (or was that just me?) and the King Diamond's. Snowy proved that he's both an instrumentalist and a singer of great capabilities.
Ceremonial Oath
So for the headliner. A bit strange to put them on the second to last spot on the first night, but few cared. Local, well known journalist Bella Stenberg presented the band while acknowledging the 20 year anniversary of their since long-sold out debut album, which now has been re-released. Out on stage went Markus Nordberg (The Chuck Norris Experiment, Braindead, ex-Cemetary), Anders Iwers (Tiamat, ex-In Flames, ex-Cemetary), Oscar Dronjak (HammerFall, Crystal Age) and Jesper Strömblad (In Flames, The Resistance, Dimension Zero, ex-HammerFall) and played that same album, from start to finish. With pauses, of corpse. When done, we all got the surprise of welcoming Tompa on stage, and the five of them ripped off the Grotesque-classic "Submit to Death" and we all swooned. I had heard from Anders Björler (At the Gates, ex-The Haunted) and Mattias Lindeblad (Braindead, radio, TV) earlier that there would be a bearded surprise though, but I couldn't imagine that we would be played a Grotesque song! For the day, I was donning a jacket with, among others, two Grotesque-patches. I showed them to Necrolord. He approved.
Engel (presented by two chicks from Ice Age: Sabrina Kihlstrand and Viktoria Larsson)
Closing the casket (pun intended) on the first day of Gothenburg Sound Festival 2013 was this melodic metal ensemble. They proved to be the tighest of all the ten bands these two days. They probably are the most routined as well, so that shows practice makes perfect. Aside from a little bit too long set list and a somewhat poor choice of songs, it was a decent show but Ceremonial Oath left the me with a feeling that Engel, and their new singer, couldn't match.
Saturday, January 5, 2013
Minora (presented by Tompa)
Most off the recipe for what makes Gothenburg metal was Minora. Their music is vastly influenced by the latest incarnation, sound wise, of Katatonia. They have also been compared to Tool, and standing in front again I hardly heard anything but bass and drums, and the leads. A pity, but there's a new record coming out soon which should be easier to listen to.
The Resistance (presented by Bella Stenberg)
I was a little surprised that The Resistance had songs enough to fill a set. But they did, and they crushed! It was that kind of show that made you want to buy all their records and continue to rock out at home. Unfortunately there's nothing yet to purchase, but something is underway this year. Like Marco Aro said: "This is definitely not the last you've heard from us!"
Nightrage (presented by Viktoria Larsson, Ice Age)
Saturday was a day of impressive drumming, and the guy behind the toms of Nightrage didn't even seem to break a sweat even though he thrashed harder than any of the other nine drummers. Nightrage only had one guitarist on stage (Marios Iliopoulos, a Greek who migrated to Sweden together with Gus G. to be closer to metal), but I'm quite certain that it was Olof Mörck I bumped into later, so I don't know why he didn't play. It didn't matter much though, because Marios ruled. Talk about a riff-maestro! And on vocals for this show only: Tompa. Of corpse, he was in the band during the first two albums so we only heard songs from them, but man, such energy! Once again, I wanted to just buy all the albums and go home, build a shrine, and worship…
Gardenian (presented by Fredrik Nordström)
…But how could I, when the next big reunion was coming on stage. On the Saturday, Gardenian was the only band I left center stage for. This time so I would get a better audial experience. The foursome, with Jim Kjell in front (although most famous for housing Niclas Engelin, now mostly in In Flames), rocked the socks off the audience, even though this was their first show in twelve years. I was amazed (yes, I guess you see I get that easily) of the skill of the band and I hope that they will play some more shows together.
Dream Evil (presented by Mikael Stanne)
These dudes… They are hard to describe, but easy to love. The songs aside (there's not much to be said, all Dream Evil records rule!) the show was one packed with homoerotic glorification. One guy actually came up from the audience, opened singer Isfeldt's shirt and started kissing his chest. Guess if they know each other… Bestiality (sex with animals) was also discussed and the string-benders (mostly Peter and Fredrik) interacted in a very entertaining fashion. Crab-fighting and out-of-sync dual rocking were two of the activities performed. And during a passage where the lyrics goes "[something, something] crystal ball", Isfeldt played with his hand over the clean shaven dome of bass player Stålfors like a seer. If you don't see the fun in it you have bad humor or just needed to be there. On the last song, the remaining artists from all the ten bands plus a few others (everyone was welcome) were invited up on the stage to choir for the band on "The Book of Heavy Metal", which is, without doubt, the ultimate homage to heavy metal. I'll stop here, just check out the video below (shot with my mobile, sorry for the bad audio quality).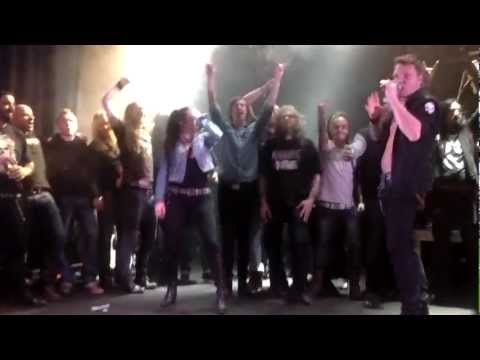 Post-show words
As you might have perceived, the second day was the most awesome. As my amigo said: "In any other city, Gardenian would have closed up the first day, and Ceremonial Oath the second." Being the two biggest names because of the reunions needed to make these shows happen. But not on Gothenburg Sound Festival 2013. All in all, the organization was great, and I look forward to the second run, around the same time next year.
I want to thank Najkliis for the company, being my only close friend metal enough to "do town" during occasions like this. The entrance pass (a leftover VIP pass to Metaltown festival 2009 no less) needs to come off, but the memories will surely last!
Awards:
Best entertainers
1. Patrik Jerksten a.k.a Pat Power, Dream Evil
No one does "drummer faces" like Pat Power. He was a big part of why the Gothenburg Sound Festival 2013 performance by Dream Evil is one of the best shows I have even seen.
2. Niklas Isfeldt a.k.a. Nick Night, Dream Evil and Marco Aro, The Resistance (excerpts)
Niklas Isfeldt: "I'm losing my voice. I have been sick. […] Don't do the same mistake I did and accidentally lick the ass of a dog."
Marco Aro: Showing and fondling his belly, then saying: "Panda Man is outta here."
3. Snowy Shaw
Unconscious/Unplanned slapstick throughout and one rehearsed story of what happened to King Diamond post-performance one time in Gothenburg. Comedy was the core of the show. The guy clearly has a medical condition…
Best guitarists
1. Marios Iliopoulos, Nightrage
Mr. Iliopoulos didn't seem to have a hard time keeping up with his drummer, even though Nightrage played some of the fastest songs during this festival. Still, I think he played more notes than any of the other string-benders. A riff-maestro indeed.
2. Marcus Sunesson, Engel
Everything just looks so easy and laid-back. A pro, for sure.
3. Fredrik Nordström, Dream Evil
For writing all the Dream Evil hymns, and being a very funny guy.
Best singers
1. Tompa, Nightrage
Tompa has the ability to charm any crowd. He doesn't have as much voice as, say, Mikael Stanne, Mikael Åkerfeldt (Opeth, ex-Bloodbath) or Peter Tägtgren (Hypocrisy, Pain and many more), but the he is still the epitome of screamed vocals and one of the real core persons in the whole Gothenburg Sound-movement.
2. Niklas Isfeldt, Dream Evil
While Snowy Shaw did a good "The Book of Heavy Metal" and "Man or Mouse" by himself, Nick Night has one of the best heavy/power metal vocals in Sweden. He was also the coolest guy on stage because he was casually/nonchalantly chewing on chewing gum during the whole set.
3. Marco Aro, The Resistance and Jim Kjell, Gardenian
Two persons very much alike in both vocal power, presence and body build. I wouldn't be at all surprised to learn that the sound engineers had to decrease the volume on the lead microphone on The Resistance and Gardenian because Aro and Kjell seemed to scream louder than anyone else.
Best drummers
1. Christofer Barkensjö, The Resistance
This guy was the fastest and most hard-hitting (Pat Power on close second place) and I was completely in awe of his skills. Tvåtaktsskrammel ("two stroke-clatter")!
2. Johan Nunez, Nightrage
As I said, this guy didn't even seem to break a sweat, even though he played fast and complex patterns. He even felt he had time to choke the cymbals (what is the correct drummer term for that?) during his fills.
3. Jimmie Olausson, Engel
Poor Jimmie was obviously more exerted than the two guys above but he was also the tightest. He didn't have to play as fast, but the complexity of what he was doing puts him on this third place.
Best bass players
1. Djilali Benarradj, Minora
I love bass players who doesn't use a pick but finger play. Mr. Benarradj is one such character, and he do more melodies than his fellow guitarists. His on-stage expression though, was/is one of a carbon-frozen space pilot: he didn't move a millimeter. But somehow that fits the music.
2. Peter Stålfors a.k.a. Pete Pain, Dream Evil
Ola Flink of Soilwork is my favorite bass player on stage, goofing off like crazy. Mr. Pain is kinda of the same breed. He's tight and doesn't do too complicated things, but instead he finds time to interact with the audience and his bandmates. He is also a finger player.
3. Fredrik Larsson, DeathDestruction
Steady and low rumbling. Nothing fancy, just bass.
Best band presentation
Fredrik Nordström: Gardenian
"In 1996, a band came to my studio to record an album. They were so bad that I flew to Spain instead. True story. Here's Gardenian."
Best off-stage entertainment
1. Bullseye Talk Show: The Gothenburg Sound
Mattias Lindeblad presented the Gothenburg Sound while interviewing Oscar Dronjak, Mikael Stanne, Tomas Lindberg and Fredrik Nordström.
2. Under a Serpent Sun (At the Gates-documentary)
Mattias Lindeblad asked questions about the making of the movie (budget: 5000 SEK = USD800, maximum) and Anders Björler answered. Then they played it. I only saw the first 30-40 minutes because Deals Death were coming on stage. But I own the DVD and I have seen it two times before so I didn't miss anything there.
3. Men's restroom
The conversations around midnight in the men's restrooms deal with all the deepest of issues.
Overall rank:
1. Dream Evil
2. Ceremonial Oath
3. Nightrage
4. The Resistance
5. Gardenian
6. Snowy Shaw
7. Deals Death
8. Minora
9. Engel
10. DeathDestruction
People working extra hard (playing with more than one band):
* Jesper Strömblad, Ceremonial Oath (bass) & The Resistance (guitar)
* Niclas Engelin, Engel & Gardenian (guitar)
* Claudio Oyarzo, Minora (guitar) & The Resistance (bass) – two shows in a row!
* Tompa, Nightrage & guest on Ceremonial Oath (vox) + presenting DeathDestruction & Minora
* Pat Power, Dream Evil (drums) & guest on Gardenian (vocals) – also two shows in a row!

Written by: MJ
---
Categorised as: Live | MJ | Reviews
---