F.K.Ü. – "4: Rise of the Mosh Mongers" 2013

ALBUM: F.K.Ü. -"4: Rise of the Mosh Mongers"
LABEL: Napalm Records
YEAR: 2013
GENRE: Thrash Metal
WEBSITE: link
RATING: 8.0 / 10
–
Some albums puts a smile on your face from the start and manages to keep it that way through out its course. "4: Rise of the Mosh Mongers" from Swedens very own moshoholics F.K.Ü. is one of these albums.
My first encounter with F.K.Ü. was back in 1998/1999 when I got a tape sent to me by Cladam (at that time running a "love it or hate it"-kind of magazine entitled "Bestialisk Mangel Zine"). A-side of the tape comprised of the insane death/thrash assault of Netherlands Inquisitor and their  "Walpurgis-Sabbath of Lust" (1996) album while the B-side became my first meet with Freddy Krueger's Ünderwear in the form of the 1998 "Beware of the Evil Ünderwear" demotape. Shortly after this I had "Metal Moshing Mad" (1999) CD in my hands and I just knew that this band was something that I'd be enjoying for a long time to come.
And I was right. Even though F.K.Ü. hasn't been spoiling their fans with new albums, the pace they've kept (around 4 years in between the latest albums) has although made sure that it's been a question of quality and not quanitity (as some bands in the business sadly deal with). Napalm Records, to me mostly known for being a label for Viking/Folk and Gothic metal, has of late been broadening their roster genre-wise and what better way to lift in some thrash metal than with F.K.Ü.
So what is it then that makes this band stand out amongst the rest of todays thrash bands?
Well, here's four simple facts for you:
F.K.Ü. 

is a band that manages to keep the old Anthrax, S.O.D., Nuclear Assault-vibe alive better than the originals.
Even if the band at times "borrow" riffs, they do it in a tasty way instead of a way that pisses me off.
Larry Lethal a.k.a. Lawrence Mackrory is one helluva singer.
The bands ability to write sing-a-long friendly songs make them a pure bliss during live performances.
And these four facts,  together with my drivel above, makes the premise for this "4: Rise of the Mosh Mongers" review. If your looking for a fun and enjoyable 43 minutes, this is it!! F.K.Ü.'s career has been filled with hit-songs such as: "Metal Moshing Mad", "Beware! Pt.2", "Die Some More", "Die Toten Core", "Moshoholics Anonymous", "The Pit and the Poser" and more…. Now you can add songs such as: "Rise of the Mosh Mongers", "A Nightmare Made Thrash", "112 Ocean Avenue" to the mix.
♠Recommended tracks: Rise of the Mosh Mongers / 112 Ocean Avenue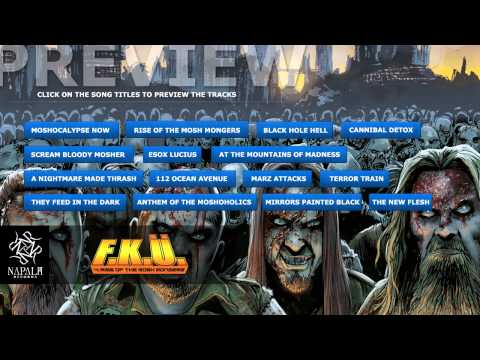 Review by: TK
---
---